Friday, May 25 2001: Continued Affiliation.
I am continuing my affiliation with www.bloodysite.de for the release of 5.0 (a nice huge side banner for Berit who's also redesigning her site). Of course, www.bloodysite.de was my first ever affiliate who I found through my failed BHG Affiliate Program (woohoo 2 fuckin' sites joined). If any of you out there has a BHG site and want to also become an affiliate (you get lots of special links of my site), just drop me a line through my e-mail and let me know you're interested. Also, on a completely unrelated sidenote, if you like comics and Kevin Smith make sure to find yourselves a copy of the Clerks Comic Book, which I just picked up today. Great fuckin' read.
Thursday, May 24 2001: Fucked Uped Bear and Some 5.0 Stuff.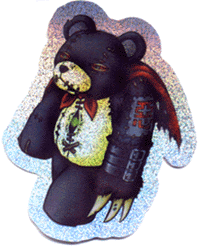 < Check out this fuckin' bear. Crazy shit man. I found this puppy at this store in the mall, and it totally grabbed my attention. I think it's cause he's so like evil looking, with metallic claws, ripped uped cape, and overall tattered look just totally makes it cool. I don't know what the hell it is or where he's from (Digimon?). He's just great though. Umm...also, I'm working on on the MAIN sections of 5.0 (news, chick pages, contacts, archives, and copyright). I should be done with these by this weekend and I'll start work on the SOUND section, which will now feature some rare BHG mp3's from their demos and such. Also I'm glad to say, today was the final day of my night school (which was of course because I failed my Senior English Class). Graduation is just around the corner (June 13th) and I'm glad to get that shit out of the way.
Wednesday, May 23 2001: First Mike's Place Post EVER!
So, as you may have just realized upon arriving to this site, I am in fact hard at work at theBLOODHOUNDGANG Page Version 5.0. I am very excited about the redesign and I hope you like it when it comes out. Secondly, I bet you're wondering why I created this little section for myself. Well, updating the news page very tedious, and often takes to much effort. So I decided to create this very simple page and be able to update it often (instead of posting in the Guestbook). Hopefully this could be like a daily thing to inform you on any site related news or whatever. BHG news will still be posted on the News Page, but obviously I don't need to do that often cause there's not much happening with BHG at the moment. The same goes for Version 5.0. I'll post updates and stuff in here, and news will be handled in the News Sections. Also, check back here daily for whatever retarded shit I have to say (just like back in the days with Version 1.0, if anyone remembers). Sound good? I hope so.